In February and March 2018, a collaborative event between KIDSDOOR and dear Me was held twice, inviting children to experience artistic ways of thinking in English. The event was for English Drive, a new project by KIDSDOOR, in which students from elementary to senior-high school learn English through activities such as plays and games. AIT's resident artist Sara Ouhaddou (France) and curator Natalia Valencia (Columbia) were invited as guests where about 15 students participated. KIDSDOOR is a non-profit organization that supports the children in Japan, established in 2007. They run a wide range of activities for the families under economical difficulties as well as single-parent family, but also for the children living in children homes and devastated areas. Their activities are realized in collaboration with companies, administrations, individuals, and students, with an aim to create a society where the children undergoing various difficulties don't need to give up their dreams, and have a hope for the future. http://www.kidsdoor.net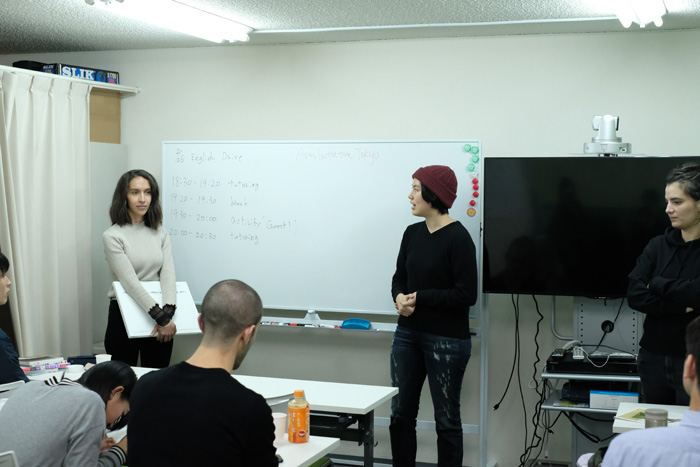 Get to know how artists and curators from abroad think, in English!
We started with introducing AIT's activities with art in both English and Japanese, using the words that the participants may not be familiar with, such as 'resident artist' and 'curator'. After Sara and Natalia introduced themselves, students sat around the table facing each other, and made a brief introduction one by one in English. And lastly Sara and Natalia showed slides to explain about their home countries, practices, and works.To explain about how her interest in art and crafts grew, the artist Sara talked about her roots – her family and childhood in Morocco. She talked about the Moroccan traditional handicraft carpet shop run by her father and the many sheep raised next to her house, with photos. Sara has been looking at the relationship between Morocco and Arab, and has been researching and making works about the letters (symbols) which has been used by the Moroccan tribes from ancient times even before Arabian culture was introduced as well as its origin. 
She also introduced a technique of Sashiko called Koginsashi, a traditional craft from Tsugaru region of Aomori prefecture – a part of her research in Japan. She talked about what she experienced in Tohoku region (North-Eastern part of Japan), the similarities between Japanese and Moroccan embroideries as she showed the actual Koginzashi from Aomori. Both were originally embroidered to cover the enlarged holes and rips in the work clothes made out of hemp, to provide warmth and fabric reinforcement, which was essential to endure severe cold winter. The techniques were born out of the ideas from everyday life, to accommodate the climate of the land. Though the countries and cultural backgrounds are different, Sara finds many similarities in the origins of traditional crafts, which are the result of using things with care over the time and incorporating creativities in everyday life.
None of the students participated had been to Aomori, and many heard the word Koginzashi for the first time. Perhaps because of that, some held Koginzaashi and observed it with curiously. After this, Sara did a game of guessing the motif in the Koginzashi patterns. Looking closely, many motifs are hidden in the patterns – simplified animals, insects and plants. Students appeared nervous at first, but as the game progressed, they went to the volunteer staff next to them for help, and although they had difficulties understanding all the English vocabularies, they seemed to have enjoyed themselves.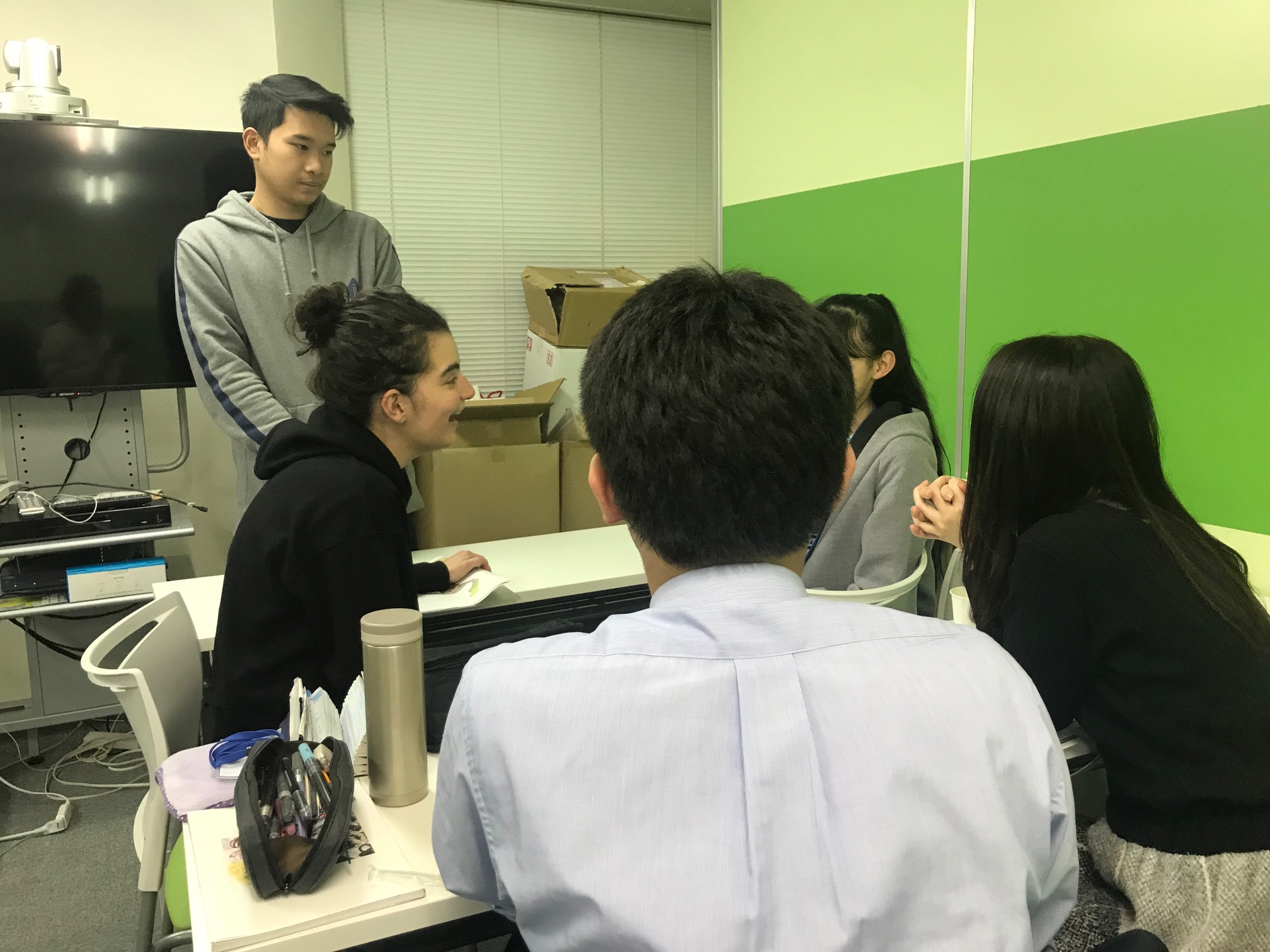 On the other hand, the curator Natalia introduced her home country, Columbia, and led the discussion while showing the images of the works by famous contemporary artists in Columbia. Some students have been to museums from time to time, while some rarely visited. There seem to have been included rather provocative images among the artworks unfamiliar to them. During the discussion in English, the first impression of works were exchanged, and a wide range of topics came up such as why the artists had thought of expressing that way, the history of Columbia as the colony of Spain and its globalization, as well as expression of artists within the context of art history. Students were a little surprised with the works of contemporary art Natalia had introduced, and when asked about the criticism and message embodied in contemporary art, their views varied. One responded "I can relate to it and like the idea" and another said "I cannot understand it well". They were shy at first to communicate their thoughts in English, however, they were drawn closer to the art pieces as they were led to identify which ones they liked and did not like, comparing the works of surrealism and contemporary art, as well as being questioned on why they felt such way. One student commented that it was difficult to express thoughts in words through this activity, and another expressed interest in learning more about contemporary art, thanks to this activity.
Text: Sara Yasunaga
Comments from Participants
It was great to talk about my activity and works with the students who were not familiar with contemporary art. It became a very good learning opportunity for me to talk about myself from a completely different perspective, as I normally talk within the context of art.
Sara Ouhaddou (Artist)
At first, it seemed students were perplexed with the expression of contemporary art, but they may have familiarized themselves a bit, as the artist had constantly connected the art pieces with things that were familiar for them. I think it was a good opportunity to engage in topics and English language through ways that is simple but unrestricted to rules – the students were led to think, discuss, touch, and talk about the 'expression' in front of them, which is different from the learnings following text books. I hope that this kind of opportunity will be provided many times in various places surrounding children.
AIT Staff
Participants and Staff
Participants: 15 Students, volunteer staff of KIDSDOOR
Lecturer: Natalia Valencia and Sara Ouhaddou
KIDSDOOR staff: Ayumi Yagisawa, and Isamu Motoyoshi
AIT: Sara Yasunaga, Rika Fujii, Shintaro Tokairin
Intern: Peter Satyo
Event
Date: February 26 (Mon.), 2018, March 1 (Thurs.)
Venue: KIDSDOOR Learning Lab Tokyo (Hacchobori, Chuo-ku)
Organizer: NPO Arts Initiative Tokyo
Co-organizer: Nippon Foundation
Cooperation: NPO KIDSDOOR, volunteers
Profile
Natalia Valencia

Natalia Valencia is an independent curator residing in Mexico city. She was born in Bogota, Columbia in 1984. She has collaborated with institutions such as Museo de Arte Moderno MAMM in Medellín, L'appartement 22 in Rabat, CAPC Museum in Bordeaux, Palais de Tokyo in Paris, Museo Quinta de Bolívar in Bogotá, Proyectos Ultravioleta in Guatemala.

Sara Ouhaddou

Sara Ouhaddou was born in Paris, France in 1986 in a traditional Moroccan family. She graduated from the École Olivier De Serres in Paris and she still resides in the city. Ouhaddou's dual culture of Morocco and France informs her practice as a continuous cultural and anthropological dialogue, questioning the transformations of her heritage. Ouhaddou strikes a balance between traditional Moroccan art forms and the conventions of contemporary art, aiming to place artistic creation's in forgotten cultural continuities into new perspectives.

KIDSDOOR

KIDSDOOR is a non-profit organization that supports the children in Japan, established in 2007. They run a wide range of activities for the families under economical difficulties as well as single-parent family, but also for the children living in children homes and devastated areas. Their activities are realized in collaboration with companies, administrations, individuals, and students, with an aim to create a society where the children undergoing various difficulties don't need to give up their dreams, and have a hope for the future. http://www.kidsdoor.net