On November 2 2018, AIT held a Death Cafe, a salon to discuss death over tea and cake, with Soft Shadows, an artist collective from Scotland. The event was organized to coincide with the visit of three art professionals from Scotland; curator Susan Christie and artists Emma Dove and Naomi Ojima.
What is Death Cafe?
Some may have not heard about "Death Cafe" before. What kind of event is it?
Actually, as the name suggests, it is an event using death as a theme, where participants talk freely over tea, cake and snacks. These events started in Switzerland about 15 years ago, and are spreading all over the world.
It originates from a meeting initiated by sociologist Bernard Crettaz, who lived in the village of Vissoie in Switzerland, to talk casually about death. His aim was to break through the tyrannical secrecy surrounding death in the wake of his wife's death in 2004. The event "Café Mortel", which started in a restaurant in the city of Neuchâtel in Switzerland near the border with France, attracted some attention, and similar events started to be held in various places in Switzerland.


Later, in 2010, Crettaz held Café Mortel in Paris, and this was taken up by the media in the UK. A British social entrepreneur John Underwood who empathized very much with it, used Café Mortel as a model and from 2011 started activities under the heading of Death Cafe at home and at cafes, and launched the website "deathcafe.com". On the website, information about Crettaz and guidelines for opening Death Cafes were posted, and information was compiled so that people interested could host their own Death Cafes. Death Cafe has spread rapidly since then, it has been organized 7236 times in 61 countries around the world (as of November 2018). After the sudden death of Mr. John Underwood on 27th June 2017, his family took over its organization, and has been operating and continuing the activities which he had been working on, including Death Cafe.
In recent years, in Japan, there have been an increase in venues where all sorts of conversations are held. In 2012, Yasuyuki Abe, a doctor in Asahikawa city in Hokkaido started Care Cafe, where people involved in care have dialogues, mainly from the medical field, and from providers of long-term care, and welfare. Also, various philosophy cafes have been hosted, with relation to mental illness, disability welfare and education. 
---
Regarding

death

not as a taboo, but as something familiar. 
The Death Cafe we organized was an event to talk about death informally and freely, just like the philosophy cafes or the world cafes started in America in the 90's.

We invited the art collective Soft Shadows with Susan Christie (curator), Emma Dove (artist), Naomi Ojima (artist) as guests, and held a Death Cafe as part of AIT's dear Me events.

Ojima is an artist working with a community located in northern Scotland called The Findhorn Foundation, which has attracted attention as the world's leading eco village, and a Learning Center for coexistence with nature, spirituality rooted in daily life, and studying better ways of living through the acknowledgement of power beyond what we can see.
In 2018, Japanese artist Kazuya Takagawa visited The Findhorn Foundation for research, and met the members of Soft Shadows, to which Naoko Horiuchi of AIT had a connection, and which led to the organization of this event.
Christie, Dove, and Ojima had a common interest in discussing spirituality and beliefs systems, mortality and in reclaiming death as a personal choice and decision. They started working as part of the 12-member collective, Soft Shadows, from 2017. The three of them acted as facilitators, guiding the conversations around death and spirituality.

Photo by Soft Shadows
Participants included a wide range of professions and age groups, including a university student and laypeople interested in the event, and artists and researchers were also present. While drinking hot tea and coffee, and eating muffins and cakes, the discussion was held in groups divided across two tables.
The ground rules of the event were introduced by Dove, where personal stories heard here were to remain here, making it a secret beyond the room, to make a safe and secure place for everyone involved.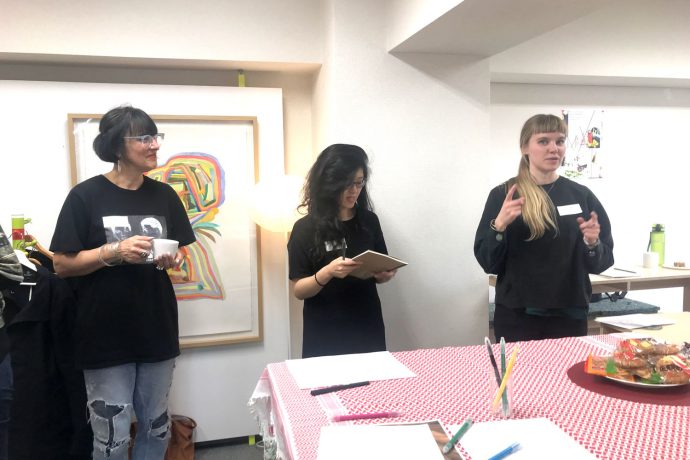 Although we had death as a common theme, I was a little nervous to know where to start before the event, but with facilitation by Soft Shadows my nervousness was quickly gone once I introduced myself in relation to the theme and started to talk freely, and the discussion went to various places.
We talked about a wide variety of topics: the death of close people such as family and close friends, religions, rituals, literature and philosophy, expressions, how we accompany each other when in sorrow, informing small children about death, the world after death, the death penalty system in Japan and in the world. And at the end, we shared what kinds of stories were discussed in each group.
There were a wide range of stories discussed in each group. Some topics touched upon the modest salvation and humour in sorrow, AI and the future of death, and thoughts on the French philosopher Georges Bataille.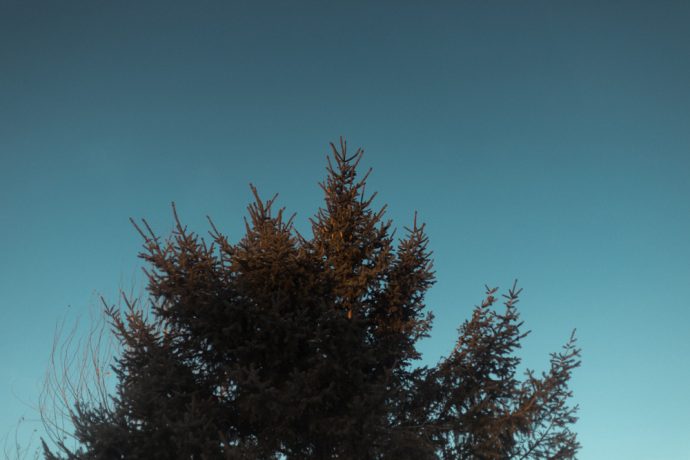 One participant said that talking about death in everyday life and mentioning topics related to death often feels like a taboo, and as I hadn't had much chance to talk about it, I reflected that it was a refreshing experience.

Another participant said that they would host another Death Cafe.
At the event, Dove announced to the participants that on the same day Death Cafes were happening in five other places –  the United States, Britain, Australia, Spain, Canada… and Japan! When I heard that, suddenly, people in countries far away felt close. Today at this time, there may be an event to discuss death which could be happening somewhere else in the world.
This event made me realize again that in modern times when our days tend to be busy, it would be nice to talk about death casually from time to time, and might be good to think about the inevitable death that everyone shares.
Text: Rika Fujii
Comments from Participants
Hosting the Death Café at AIT was a real highlight of our visit to Japan. The conversations were humbling and fascinating. Everyone was so honest in the stories that they told. It was particularly interesting to talk about the different cultural differences between Scotland and Japan –traditions, beliefs, changes, challenges. Although everyone's stories and experiences were different, it felt as though we could all relate to one another. It all felt very human.
We covered a wide range oftopics, including children's understanding of death, spirituality, death in the digital age, and how facing death draws awareness to the significance of life. We also discussed the emotional difference for surviving relatives when someone is cremated vs buried. In Japan, nearly everyone is cremated, whereas in the UK about 75% are cremated and 25% buried. Oneparticipant explained the Japanese practice of 'kotsuage' –where relatives pick the bones out of the ashes and transfer then to the urn using large chopsticks. It sounded like an extremely visceral, emotional experience, but also very important for coming to terms with the death and the transition of the body to cremated remains. The fear of being in the presence of death in Western society makesthis practice seem taboo, but the emotional significance for the livingseems very important. Western culture could learn a lot from this.
Emma & Naomi reflection (Table 1)
Suicide was the main subject at my table and everyone had a compelling personal narrative to share. What struck me most was the honesty -although as a group we were coming together for the first time, we moved incredibly quickly into difficult territory. Participants round the table were frank, and incredibly open about their own situations. This series of conversations proved to be a highly enriching and unexpected experience. Back in Scotland I was recalling these conversations afresh because a friend's brother-in-law took his own life after a protracted illness. Living in a small rural community, the ebb and flow of life and death are strongly felt and evident every day. It was a real honour to be part of this event hosted in partnership with AIT -we were able to reveal private thoughts and feelings, and explore what connects Scotland and Japan.
Susan reflection (Table 2)
Even among AIT staff who have shared a workplace for many years, we have had no opportunity to share private episodes relating to death, therefore it was a good chance to know how familiar people have encountered death, and understood it, and perhaps tried to accept it. One of the attendees was Fumito Urabe, an artist who works with stories and legends carried across the ocean, and reproducing driftings by giving them new meaning. His thoughts behind his works originate in being the son of a priest, and of a consciousness to sublimate thoughts of reincarnation in Buddhism in expressions of art. He reflected that to think about death and rebirth through the work of art, was something unique at the Death Cafe organized at AIT. By repeating the session twice or three times, it seemed that it could generate a richer dialogue.
Naoko Horiuchi (AIT)
Participants and Staff
Guests: Soft Shadows
 Susan Christie(Curator)
 Emma Dove(Artist)
 Ojima Naomi(Artist)
Outline
Death Cafe with AIT (dear me Learning Lab)
Date: November 2, 2018 (Fri.) 14:00 - 16:00
Venue: AIT Room, Daikanyama
Free Admission
Biography
Soft Shadows

Emma Dove, Susan Christie and Naomi Ojima are members of Soft Shadows, an artists' collective basedin rural Scotland formed at the start of 2018. Through ongoing research and development work -supported by the British Council -the members are seeking to establish sustainable relationships with artists and curators in Japan.
Emma, Susan & Naomi share an interest in discussing spirituality and beliefs systems, mortality and reclaiming death as a personal choice and decision.We feel that there is much rich conversation to be brought forward at a personal, familial and societal level.What do we want for ourselves, for our families? What do we believe happens after we die? What does spirituality mean to us, today?
Our research and the death café model offer ways of harnessing personal narratives to learn about different beliefs and generate dialogue thatcan inform people's choices.As artists & curators, it feels that this is a potent time to be making new work that delves into these subjects, to connect with artists, curators and wider public in Japan with the potential to be part of a highly topical movement for change.

Emma Dove / Artist

Based in rural Dumfries and Galloway, Scotland, Emma makes films andinstallations, collaborating with artists, musicians, academics and scientists. 'Hidden stories' are at the core of her work with a current research interest in cross-cultural death practices and taboos.Previous projects have explored relationships to place, the natural world, notions of home and personal memory, engaging with local communities to create immersive works layering long-take video, voices and field recordings.Completed works have been presented at exhibitions and festivals in the UK, Italy, Sweden, Romania, Brazil, Mexico and India.
Currently, Emma isdeveloping a new body of work exploring mortality, including a podcast and experimentalphotography series.

Ojima Naomi / Artist

Naomi Ojima, originally from Japan, studied Fine Art in Japan and Scotland. She graduated from Moray School of Art with a First class BA (Hons) in 2012. Naomi has been collaborating with a poet, other artists and has exhibited her work in the UK and Japan.Her work explores the true nature of all beings and life itself before we process our perception of them inour minds. It is expressed through different media.
Naomi lives and works in Findhorn, Forres and is also a member of 'the Orchard Road Studios'.

Susan Christie / Curator

Trained at Edinburgh College of Art, Susan an independent curator and producer who has been based in Cromarty in the Scottish Highlands for 18 years.
Susan has spent over 20 years curating, collaborating, leading projects and nurturing a diverse range of public art activity. This encompasses small-scale highly participatory events and projects, developing a series of artists' research residency programmes with various partners and delivering large-scale complex initiatives in the public realm.
Susan established IOTA_ a mutable entity that emerged out of a regeneration programme that was taking place in Inverness, the capital of the Scottish Highlands. Working as Lead Curator of IOTA_, Susan developed an unusual programme that is experimental, that uses public space in imaginative and unexpected ways and that actively engages the public.